Introducing the Patented LIFT™ Pallet
St. Marys Box Company announces the LIFT™ pallet,
the latest evolution of their patented PennyPincher Pallet.
Our new "Wrap Top" Decking design is stronger and more cost effective than previous heavyweight decking materials.
The runners of our corrugated pallets are key to its design and structural capabilities. In addition, our runners are sold separately in varying heights and widths to support or cushion other products.
Since corrugated materials have cushioning properties, the Pallet actually minimizes transit vibration and other shocks that are incurred during shipping.
We can customize the LIFT™ Pallet using chemically enhanced papers and water resistant adhesives, which produces a water resistant pallet.
A customized, water resistant LIFT™ pallet will eliminate your worries about wet docks, rainy ports or damp warehouses.
Corrugated weighs less than wood. The weight of a standard 48" x 40" LIFT™ Pallet is only 10 pounds. Pallet handlers using the lightweight Lift™Pallet experience less muscle strain, sprain and injury. The result is a more productive employee with fewer workman's compensation claims.
Lightweight does not mean light-duty. The LIFT™ Pallet is a workhorse in terms of strength, being able to withstand a 10,000 lb. static load test.
Manufactured from 100% corrugated, the LIFT™ Pallet does not use any wood in its construction. How can something be so lightweight yet so strong?
The strength of the LIFT™ Pallet comes from its patented design. In one standard runner there are over 1,500 cylinders (corrugated flutes) that have no weak points. A standard four-runner pallet with over 6,000 individual cylinders can withstand a 10,000 lb. static load test eliminating a need for wood reinforcement.
The materials used in the LIFT™ Pallet are 100% recyclable, environmentally safe, and can be tossed by hand into a compactor for recycling. There is no need to pay someone to handle and sort the pallets before disposing of them.
It's better to have a recycling company pay you rather than having to pay to get rid of wooden pallets that are no longer useable.
Lightweight Innovative Freight Technology

Originally launched in 2003 as the PennyPincher Pallet™, the pallet was the result of the ongoing commitment by St. Marys Box to not only listen to our customers but to react to their needs. When our customers asked for an improved pallet, our team of design specialists developed the corrugated pallet. Since starting in 1997, the pallet has undergone 5 major revisions and, most recently, a name change to the LIFT™ Pallet to better reflect the beneficial properties of the pallet.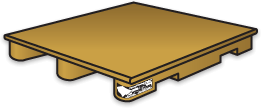 The newly rebranded LIFT™ Pallet includes the new top decking system. By utilizing a flat, solid shipping surface there are no gaps between boards, preventing damage to your product. This top deck system also allows for up to a 50% reduction in G-force resulting in cushioning properties for your product and lower costs for shock reducing packaging materials like foam.
The Many Advantages of Corrugated
The LIFT™ Pallet is made of 100% corrugated. Look for yourself at the many benefits corrugated has to offer and compare to wooden pallets. Once you do, we know you'll agree that it's time to put our LIFT™ Pallet to work for you.

Be sure to download our LIFT™ Pallet Presentation which contains all of the information on this site in a easy to print out form for your future reference.
L
ightweight
- The weight of a standard 48" x 40" LIFT™ Pallet is only 10 pounds.
I
nnovative
- The runners of our corrugated pallets are key to its structural capabilities.
F
reight
- When shipping internationally, it is exempt from wood pallet export restrictions.
T
echnology
- A standard four-runner pallet can withstand a 10,000 lb. static load test.